Last updated on January 27th, 2022
Duchess Potatoes have a deceptively high-brow look. Indeed, they are simply enriched mashed potatoes that are piped into decorative swirls, and then baked in a hot oven until golden. You don't have to bake the adorable mounds right away. You can freeze them for weeks (or even months), and then bake them off just before Thanksgiving, Christmas, or Sunday dinner. Watch the video up top to get the "feel" for making Duchess Potatoes. Then scroll down for a few notes and the printable recipe.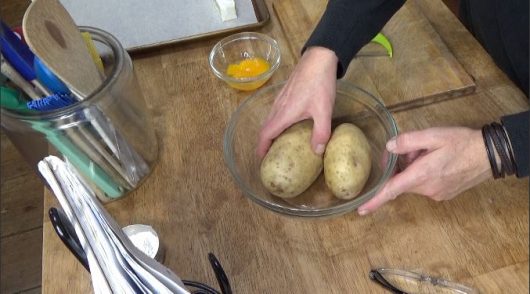 A note about the potatoes. The best potatoes for this French side dish are the types you would normally use for boiling and/or mashing. 'Yukon Gold' potatoes are ideal, as they offer a creamy consistency and an attractive yellow color.
Some historical notes. The first known recipe for Duchess Potatoes was published in La Nouvelle Cuisinière Bourgeoise in 1746. The same potatoes appeared in Fannie Farmer's Boston Cooking-School Cookbook in 1896. Miss Farmer encouraged the piping of the potato mixture into baskets, pyramids, crowns, leaves, roses, etc. To encourage browning, she recommended brushing the shapes with an egg wash.
Whether to apply an egg wash (one egg beaten with one teaspoon of water) is entirely up to you. As illustrated in the video, my Potatoes Duchess browned quite nicely without the benefit of an egg wash.
How to Freeze Duchess Potatoes. Pipe the potato mixture into the shapes you want, but do not bake them. Freeze directly on the baking sheet. When solidly frozen, transfer the mounds to an air-tight container. When you are ready to bake, rearrange the potatoes on a baking sheet, and bake as directed. Do not thaw the potatoes prior to baking.
I hope you will give this classic French side dish a try some day. Just imagine how lovely the frilly mounds will look beside a roast turkey or a vegetarian Tofurky!
Hungry for more? Get my email updates.
Related Recipes:
Crispy Roasted Potatoes
Here's the printable recipe French Duchess Potatoes:
Print Recipe
French Duchess Potatoes
Enriched mashed potatoes that are piped into decorative shapes, and then baked until golden.
Equipment
A large piping bag outfitted with a large star tip
Ingredients
1 1/2 to 2 lbs. 'Yukon Gold' potatoes, peeled and roughly diced

1/2 teaspoon kosher salt (for boiling the potatoes)

3 tablespoons butter (salted or unsalted), at room temperature

Grinds of black pepper

1/4 teaspoon ground nutmeg

3 yolks from large eggs, at room temperature
Instructions
Put the potatoes into a large pot, and add enough cold water to cover the potatoes by 2 inches. Bring to a boil over high heat, and then add the 1/2 teaspoon salt. Then then lower the heat, and let the potatoes simmer until fork tender -- about 20 minutes. Drain the potatoes in a colander, and then return them to the pot.

Over low heat, gently stir the potatoes for about 1 minute to allow moisture to evaporate. Then mash the potatoes to a smooth puree. Off heat, stir in the butter. When the butter is well incorporated, stir in the seasonings. Taste carefully -- you might like to add more salt. Let the mixture cool until warm, not hot. Then stir in the egg yolks until they are well incorporated.

If you are planning to bake right away, preheat the oven to 400°F.

Transfer the potato mixture to a large piping bag that is outfitted with a large star tip. Also, line a baking sheet with parchment paper. Pipe the potatoes into decorative swirls or some other shape, roughly 2 inches in diameter.

MAKE AHEAD NOTE: At this point, the Duchess Potatoes can be frozen for weeks or even months. Freeze them directly on the baking sheet. When they are solidly frozen, transfer them to an air-tight container. Arrange the potatoes on a baking sheet when you are ready to bake. Do not thaw the potatoes prior to baking.

Bake in the preheated oven until the swirls turn golden brown -- usually 20-25 minutes. Serve hot or warm.