Last updated on September 16th, 2014
YES, I wrote about these sweet, sticky, sinfully delicious Cinnamon Rolls back in 2011. And today, because I'm taking pictures for my cookbook, and because I wanted something sweet, sticky and sinfully delicious for breakfast, I decided to make them again. Are you ready for a taste?
Cinnamon Rolls begin their career as Sweet Roll Dough. I knead this dough entirely by hand. If you'd prefer to let your standing mixer knead the dough, I won't stop you.
Tip: When you knead dough by hand, you don't have to visit the gym.
But you will still have to take your dog for a walk.
Here are the photo-heavy step-by-step directions, followed a computer-friendly copy-and-paste version:
In a big blue mixing bowl, dissolve one packet (2 1/4 teaspoons) active dry yeast in one 1/2 cup of warm (110°F) water. Let the yeast stand for 5 minutes, or until it bubbles and foams, thus proving to you that it is indeed "active."
Then add one 1/2 cup milk, which you previously scalded and then cooled to 110°.
(To scald milk quickly, I simply place it in a glass measuring cup, and then nuke it in the microwave for 60 seconds.)
Add 1/3 cup of granulated sugar…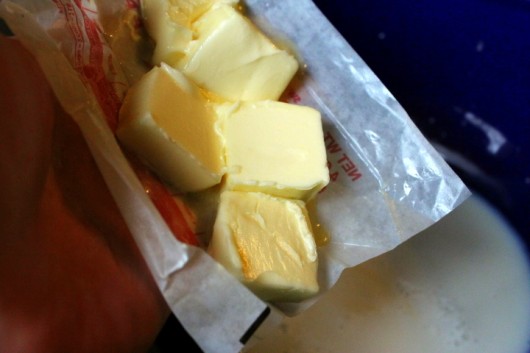 1/3 cup of softened butter…
One teaspoon of kosher salt…
And one beaten egg.
Stir in 3 1/2 cups of all-purpose flour…
And then dump the mess onto your lightly-floured work surface.
And knead it, baby.
To knead dough by hand, first push it away from you…
And then pull the farthest end towards you…
And then push it out again.
If you knead dough by hand, you will certainly acquire each of the following:
♦Perfectly-sculpted biceps.
♦Six-pack abs.
♦The ability to exaggerate.
After 3 minutes of pushing and pulling, the dough will suddenly stiffen up, and resist your kneading-efforts. At this point,  just let it rest for 2 minutes, to relax the gluten. Then knead for 2 additional minutes. The dough is ready when it no longer feels sticky, and its surface looks smooth and silky.
Quickly wash out and dry the bowl, and then spray it lightly with non-stick vegetable spray.
Drop the dough into the bowl, and then invert the dough, so both sides become "greased."
Yes, I realize my dough looks like a chicken in the photo above.
Cover the bowl with plastic wrap, and then set it someplace warm until it doubles in volume — about 1 1/2 hours.
No warm spot in your kitchen? Then do what I do, and set the bowl of dough on a heating pad. You can buy this common device at any drug store for about $10.
While the dough is rising, butter two cake pans, and then coat the bottom of each with granulated sugar. Use one tablespoon of sugar per pan.
You might as well prepare the cinnamon-sugar filling, too. To do this, whisk together one 1/2 cup of sugar with 2 teaspoons of ground cinnamon.
Punch down the risen dough…
Roll it into a 9×15-inch rectangle…
Spread it with one 1/2 cup (1 stick) softened butter…
And then sprinkle the cinnamon-sugar evenly over the top.
Working from the 15-inch side, roll the rectangle up as tightly as you can.
As pictured above, use the back of  your hand to gently flatten each end of the roll.
Cut the roll into 1-inch slices…
And then place the slices in the sugared cake pans. Cover with plastic wrap, and let the rolls rise until double — about 30 minutes.
Bake the buns for 25-30 on the lower-middle rack of your preheated 350°F oven.
While the rolls are still warm, drizzle them generously with glaze (2 cups confectioners' sugar mixed with just enough water to make it pourable).
Now pour yourself a cup of coffee…
Place a cinnamon roll on your plate…
And tuck into something that's delicious, delightful, and devilishly-delectable.
I hope you're drooling right about now.
As promised, here's the printer-friendly, copy-and-paste version of the above:
Dreamy Cinnamon Rolls
Kevin Lee Jacobs
Ingredients for 15 rolls
The "Sweet Roll" Dough:
1 package (2 1/4 teaspoons) active dry yeast
1/2 cup warm water
1/2 cup milk, scalded then cooled
1/3 cup sugar
1/3 cup (5 and 1/3 Tbsp) butter, softened
1 tsp salt
1 large egg, beaten
3 1/2 – 4 cups all-purpose flour (plus a little more for dusting)
Non-Stick spray

The filling:
1/2 cup butter, softened
1/2 cup sugar mixed with 2 tsp ground cinnamon

The glaze:
2 cups confectioner's sugar blended with just enough water to make it pourable

Special Equipment — 2 cake pans, 9 inches in diameter, and 2 inches deep.

Preliminary step: Butter the cake pans; sprinkle the bottom of each pan with 1 tablespoon of granulated sugar

Making the dough – In a large bowl,  dissolve yeast in warm water, and let it proof for 5 minutes. Add milk, sugar, butter, salt, egg and 3 1/2 cups of the flour; stir with a stout wooden spoon until smooth. Then mix in enough of the remaining flour to make the dough easy to handle.

Turn the dough  onto a lightly floured surface (I use a marble slab); knead  until smooth and elastic – about 5 minutes.

Quickly wash and dry the large bowl, and then grease it with oil or vegetable spray. Place dough in the bowl; turn "greased" side up. Cover with plastic wrap and let rise until double, about 1 1/2 hours.

Filling and rolling the dough – Punch down the dough, turn it onto a floured surface, and then roll it out to form a 15″ x 9″ rectangle. Spread the dough with the softened butter; sprinkle with cinnamon and sugar. Then roll it up tightly, beginning at the 15-inch side. Flatten ends with the back of your hand, and, if necessary, pinch the ends to seal.

Cut the dough into 1-inch slices. Place the slices slightly apart in the buttered and sugared cake pans. I managed to fit 8 slices in one pan, and 7 in another.

Let rise until double – 30-40 minutes.

Baking – 25-30 minutes in a preheated 350°F. oven. Set the pans on the lower middle oven rack, and bake for 25-30 minutes, or until the rolls have slightly browned. Don't over-bake, or you'll have crispy cinnamon rolls (this isn't necessarily a bad thing). Set pans on a wire rack to cool slightly.

Glazing the rolls – Pour the confectioners' sugar into a medium bowl. Whisk in hot water, one tablespoon at a time, until the glaze is thin enough to pour. Drizzle the glaze in between and all over the rolls.
Folks, promise me you'll make these dreamy rolls some day, okay? They are terrific for breakfast. And as an after-school treat, they can't be beat!
Don't miss anything at A Garden for the House…sign up for Kevin's weekly newsletter.
Related Posts:
Chicken and Lemon Polpettine
Cecina – Gluten-free Tuscan Flatbread
Monkey Bread – The Real Deal!