Last updated on May 18th, 2014
THERE ARE PROBABLY AS MANY WAYS to plant potatoes as there are gardeners. I plant mine in shallow holes in a raised bed. And then I set a wooden frame over the bed, and gradually fill it with chopped straw. This nifty method is not only water-wise, but it permits the easy "hilling" and harvesting of tubers.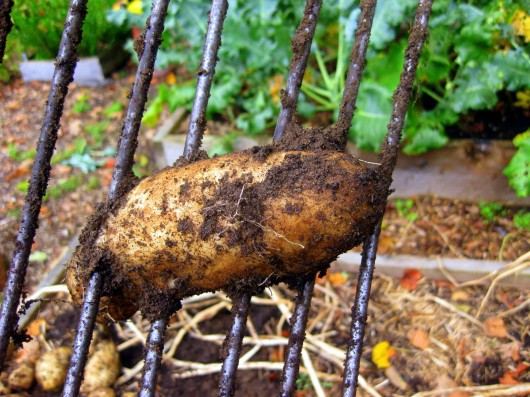 Note. I used to plant my "seed" tubers in deep holes in a raised bed. Although this method produced a terrific crop, I could never find all of the new spuds. And too often I would spear great number of them while digging with a pitchfork. My current planting-method eliminates such trauma.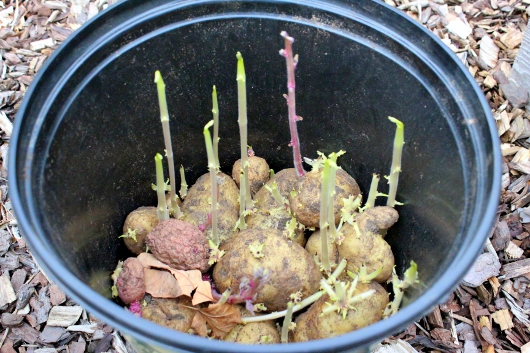 First, obtain some seed potatoes! You can find certified disease-free tubers from online sources and also from quality farm stores. Or, you can do what I have learned to do, and simply save the smallest spuds from your previous year's harvest. Let them sprout in a cool, dark location. Pre-sprouted potatoes can be harvested 2-3 weeks earlier than their non-sprouted kin.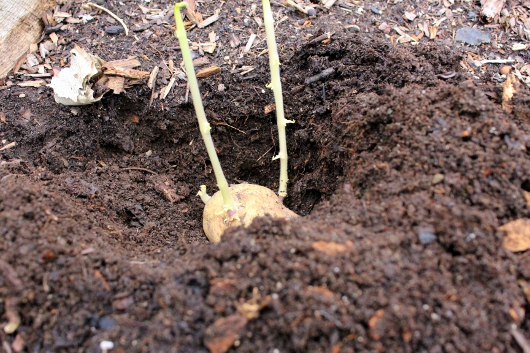 Next, using your hands, dig a hole just deep enough to accommodate a tuber, spacing the tubers 12 inches apart on all sides.
This spring, I planted white 'Kennebec'…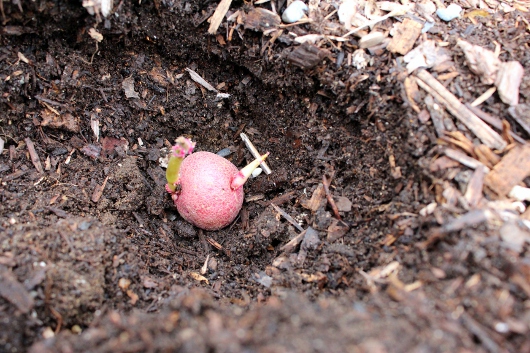 'Red Norland'…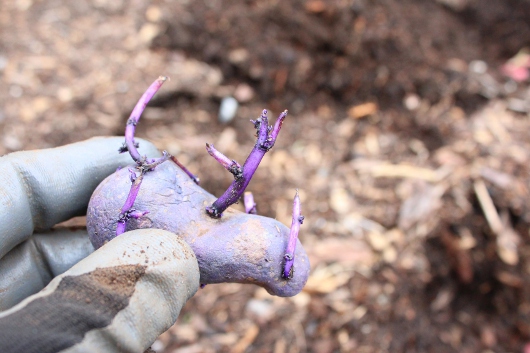 And 'Blue.'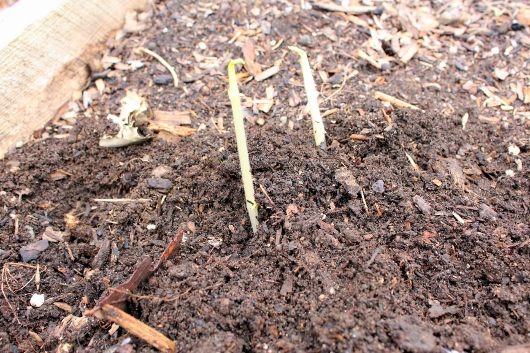 Cover the tuber with one inch of soil.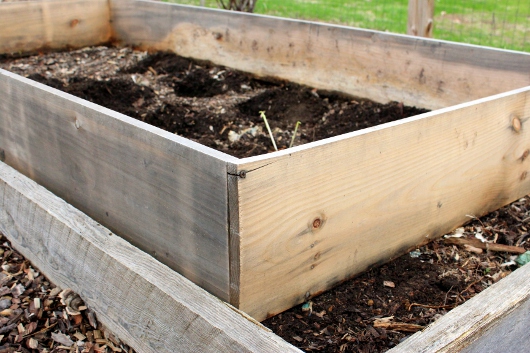 Now make a frame to fit over your raised bed. My frame, pictured above, is now in its second year. I had it cut to size from the cheapest pine my lumber store had to offer. It stands 12 inches tall, and fits just inside my 8×4 raised bed.
When your sprouts transform themselves into vines…
"Hill" them with weed-free chopped straw*. Only the top 2 inches of greenery should be exposed to sunlight.
And speaking of sunlight, be sure to plant your crop in full, blazing sun. Potatoes grown in part-sun will not achieve their full potential.
*You can find weed-free chopped straw at most garden centers. Shredded leaves are suitable for potato-hilling, too.
New potatoes will form on "stolons" (underground stems) that form beneath the straw.
Hilling is halted when the chopped straw reaches the top of the bed.
I can tell you that last year's potato harvest, achieved with my nifty bed-on-a-bed method, was substantial indeed. It was easy to pull out the straw (which went into my compost bin) in order to verify that no spud was left behind.
Think you'll try my easy planting-method? You can let me know by leaving a comment. The method is certainly water-wise, because the straw shades the soil below, and thus keeps it cool and moist. I think I watered my crop only twice last summer, and believe me, it was not a rainy season!
Need more potato growing advice, including when and how to harvest? Then be sure to read this page-turner: How to Plant, Grow, Harvest & Store Potatoes.
Other mind-numbing posts you might enjoy:
Fougasse aux Herbes de Provence
Victorian Beauty from Common Garden Flowers
The Best Lemon Tart in the World