Last updated on June 11th, 2012
LONG BEFORE THIS 1826 HOUSE WAS MINE, some thoughtful gardener planted four deciduous shrubs in the broad bed outside the parlor (now my music room) window. Three of these were easy to identify: mock orange, azalea and pee-gee hydrangea. But the name of the fourth shrub, which drapes itself in snow-white bloom from June to July, was a mystery to me. That is, until reader Cary Bradley identified this Plantus unknownus as Deutzia scabra. Are you familiar with this old-fashioned beauty that blooms in dense shade?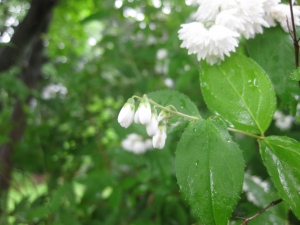 Why this "Fuzzy Deutzia" or "Pride of Rochester" is so rarely seen, I haven't a clue. For it accepts average soil, moderate water, and full sun or shade as you please. Mine produces dazzling white panicles in the dense shade of ancient maple trees. Its unopened buds, as you can see in the photo above, resemble the bells of Gallanthus snowdrop.
It is my sincerest hope that you will want to plant Deutzia scabra in your own garden. If you can't locate one at your local garden center — and I'll wager you can't — here's what you can do. Snoop around the older gardens in your area, and try to find the shrub. It will be easier to spot in June, when it is covered with flowers. Then ask permission to take a 5-inch long, softwood cutting. (If you find it in a park or a cemetery, proceed as your conscience allows.) Remove the cutting's lower inch of leaves, insert the exposed stem in a 5-inch pot of humussy soil, and you'll have your very own plant in about six weeks' time.
However you come to obtain it, scabra is definitely worth having, especially if you want an uncommon plant that will delight you with flowers even in dense shade. I'm certainly grateful to the soul who planted one here.
Don't miss anything at A Garden for the House…sign up for Kevin's weekly newsletter.
Related Posts:
A Peach of a Shrub: Flowering Quince 'Cameo'
August Sweetness: Clethra alnifolia
A Tour of my Federal/Greek Revival/Victorian House