Last updated on April 28th, 2019
IN EARLY JUNE, when the weather is clear, the roses are out (that's fragrant 'Zephirine Drouhin,' above), and the lupines are in bloom, I can't help but spend a few hours outdoors each day. Would you like to see what I see when I tour the gardens here? Take a walk with me:
To sweeten our time together, I've made yet another batch of blueberry-topped sugar cookie tartlets.
The tartlets, I think, will go nicely with this bottle of ice-cold Pinot Grigio.
I know you appreciate my superb hosting-skills.
Here we are, standing at the garden gate, with a view of the Rose Garden. Not once have I walked the brick paths here without remembering that this 100 feet long, 50 feet wide oasis was formerly a parking lot.  As you can see, the boxwood has been neatly trimmed. What you can't see is that the basin of each fountain has been cleaned. The basins were choked with tree debris, thanks a series of recent storms.
Do you have a water feature in  your garden? I hope so. The music that moving water provides is incredibly soothing on a hot day.
And by the way, you don't have to spend a fortune for a water feature. I didn't. The fountains pictured above (there are two) were obtained for a modest price from a shop in New Mexico. Even the shipping cost was low,  because the fountains are made of aluminum, not heavy cast-iron.
The roses are about two weeks behind. But they are opening their perfumed petals. Pictured above is David Austin's sweetly-scented 'Mary Rose.'
I broke my "no orange flowers" rule when I purchased the rose above.  You see, it is named for my culinary hero: 'Julia Child.'
On the other hand, I love purple flowers, like this 'Anna Louise' Clematis.
Remember that clematis likes to have its feet in the shade, and its head in the sun. For shade, a thick mulch will do. My rose (and clematis) beds are mulched with three inches of shredded leaves.
Earlier, I mentioned  'Zephirine Drouhin.' A better climber doesn't exist. The flowers are deep pink, and strongly perfumed. You can swim in the scent. And get this — the canes are thornless! Zephirine's exuberant growth helps to hide the ugly shed that stands at the northwest corner of the rose garden.
Heading north, we encounter an ancient silver-leaved maple. I built a retaining wall around one side of the tree, and planted pachysandra and spring-flowering bulbs there.
We are ascending the hill now, which I equipped with a blue stone staircase.
To the left of the staircase is a ruby-leaved, 'Forest Pansy' redbud. I showed you this Cercis canadensis last month, when it was in dressed in purple flowers.
Looking west, from the top of the hill. I carved an opening in a grove of white pines to permit a view of my headless Venus de Milo. How Venus lost her head.
Around the corner from Venus is the Kitchen Garden.
Are your hot weather crops (tomatoes, zucchini, etc.) creeping along at a snail's pace? Welcome to the club. I attribute the slowness to our wacky weather. Wacky weather which is, in fact,  our new "normal" weather.
Smothering the arbor at the rear of the Kitchen Garden are hardy kiwi vines.  Last month, I told you that I had planted a male and female plant as directed, to insure fruit. And that the plants must have been mislabeled, because in six years I'd seen nary a flower, let alone a kiwi. But do you see what I see in the picture above? Yes — blossoms! Looks like I'll be swimming in grape-sized kiwis this summer.
And speaking of fruit, the day-neutral 'Seascape' strawberries are coming along beautifully…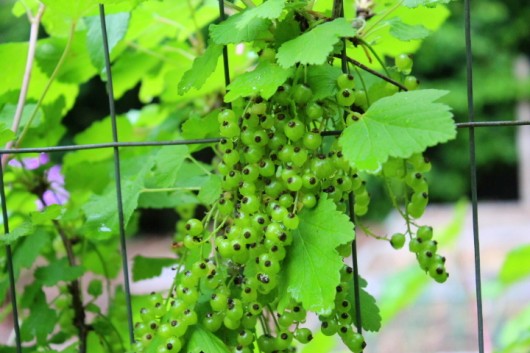 As are the 'Blanca' currants.
I'll give you a more thorough tour of the Kitchen Garden if and when it really takes off.
I'm nothing if not optimistic.
Opposite the Kitchen Garden is the Pool Garden.  I actually skinny-dipped went for a swim this morning.
What's that you say?
Yes, you may have more wine.
You might as well finish off the tartlets, too. Remember, we're burning calories on this tour!
Beyond the Pool and Kitchen Gardens is the Woodland Garden. Shall we step inside?
The woodland plants definitely benefited from the 9.25 inches of rain that fell during the final weeks of May. On the left side of the path, just beyond the rose arbor, is Hosta 'Blue Angel.'  Deer do not like this variety. Not my deer, anyway.
Three varieties of Primula japonica are in full bloom. Say "hello" to white 'Apple Blossom'…
And deep pink 'Varietus unknownus'…
And red 'Miller's Crimson.'
The Woodland features a long, curving "hosta walk." The green hosta in the foreground is one that the deer will eventually eat. I say let 'em have it. I don't really care for plain green hostas.
Colorful 'Wide Brim' is a hosta the deer won't touch.
Hosta 'Paul's Glory,' which is similar in color but larger in leaf-size than 'Wide Brim,' is also immune to deer-destruction.
Elsewhere in the garden, a big patch of Astilbe have formed their flowing white spires.  The white buds will open pink in late June.
Ferns and hostas form the backdrop to the fish pond.
If I can make a fish pond, so can you. Just dig a hole, line it with rubber roofing material, fill it with water, insert a pump, and you're done.
Okay, that sounds like a lot of work. But honestly, it's not.
Furthermore, if you build a fish pond, Prince Charming will visit.
Some of my houseplants are vacationing in the Woodland Garden. Pictured above are Philodendron vines. These, in winter, frame my bathroom window garden.
The window garden in question. How I designed this horticultural portrait.
Let's exit the Woodland for now, and head back to the house via the Serpentine Garden.
If only you'd visited me last week, when the Serpentine's hedge of dwarf lilacs were in bloom. A sweltering, 4-day heat-wave finished off these  Syringa meyeri 'Palabin.'
Just now, the garden's third terrace is filled with colorful plants, including this Weigela 'Wine and Roses'…
And these dashing, bearded blue irises…
And these Russell hybrid lupines, which come in all kinds of sumptuous shades.
Well. I hope you've enjoyed this little tour which came complete with drinks and dessert. I know I certainly did.
Now, I'd like to hear about your own garden. Are your plants blooming on cue? Or are they a few weeks behind because of persistent cold (or just plain wacky) weather?
Don't miss anything at A Garden for the House…sign up for Kevin's weekly updates.
Related Posts:
Garden Chores for June
Awesome Almond Biscotti
How I Smother Weeds with Newspaper