Last updated on February 10th, 2020
Do your baking sheets look anything like mine? I mean, are they hideously stained with baked-on grease? Stay tuned, my friends. I might have good news for you.
Over the years, I've tried certain "easy" methods for cleaning gross-looking, commercial-grade baking sheets. Here's my experience with 3 such hacks:
Vinegar: Useless.
Baking soda and peroxide: A joke.
Preparation H: Don't ask.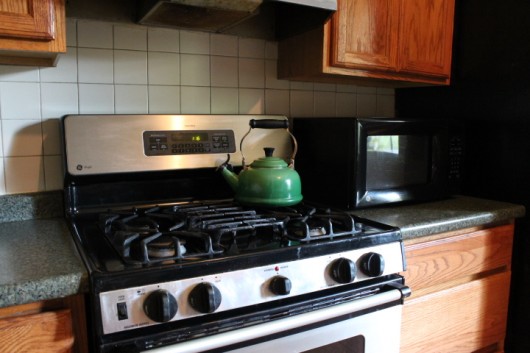 A few of my readers claimed high-temperature-cleaning was the answer. "Run the sheets through your oven's self-clean cycle," they said. "The sheets will come out like new!"
I've always poo-pooed the oven idea. Why? Because I'd have to arrange the baking sheets on oven racks. And according to my oven's manufacturer, the racks must be removed prior to cleaning in order to preserve their shiny coating.
Ha-ha-ha. My oven racks lost their shimmering beauty eons ago. Consequently, on Wednesday night,  I arranged 4 grungy baking sheets on 2 dull oven racks. And then I pushed the oven's "clean" button, and headed up to bed.
And as I slept, I dreamed that I'd landed a role in a hit situation-comedy. As a fun-loving, alcoholic grandmother.
Who are you to judge my dreams?
And speaking of dreams…I found 4 of 'em when I opened the oven door the next morning. The baking sheets looked almost new! The baked-on grease had turned to dust, so my only job was to rinse and dry the sheets and put them away.
Now, I don't know if this cleaning-technique will work for all baking sheets. I only know that it worked shockingly-well for my own collection of commercial-grade subjects (click here for details). If you are one of the readers who suggested the method, let me tip my hat to you. Also, let me offer you a walk-on role in a certain situation-comedy.
Hugs, Grandma Edna Kevin