Last updated on September 22nd, 2016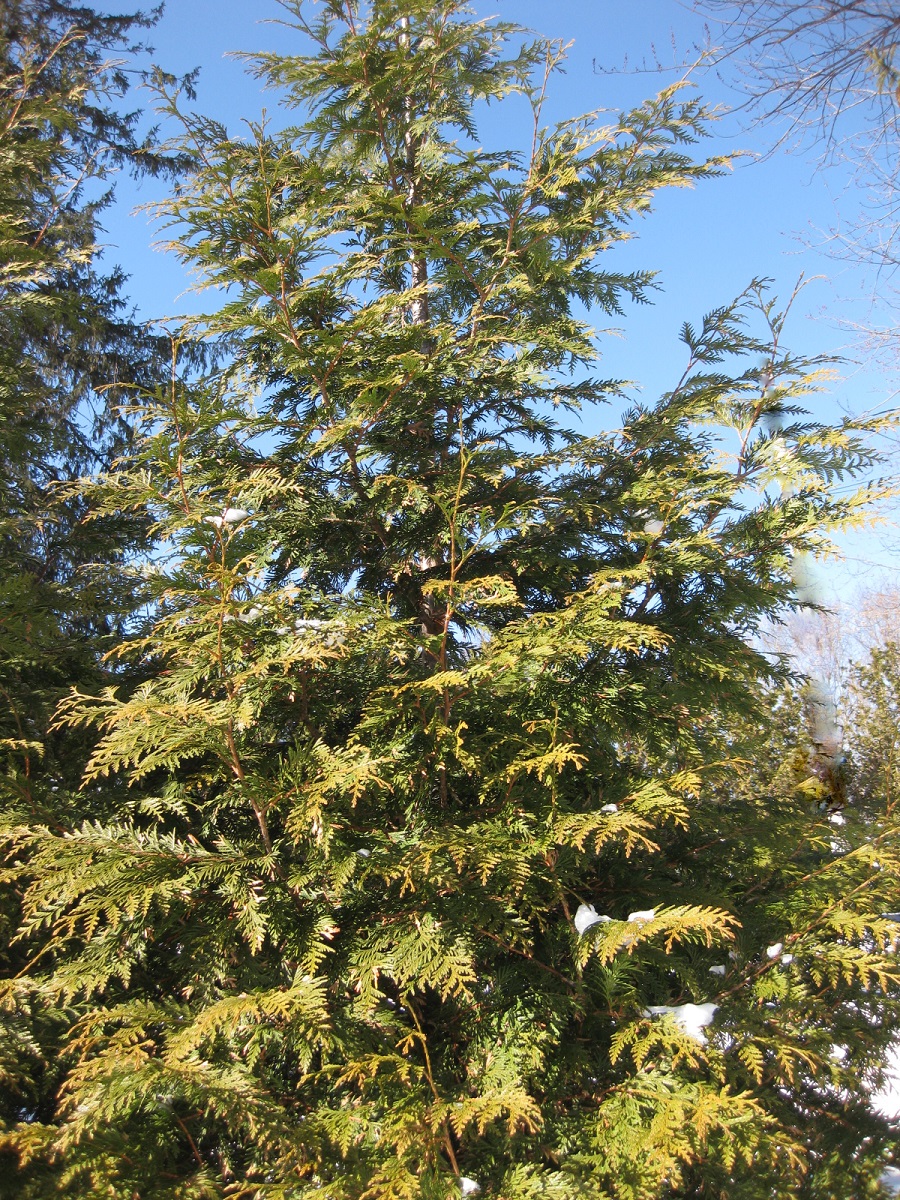 What do you do when you want privacy from neighbors and traffic, but you can't afford a 10-foot brick wall? Why, you plant a green, living wall instead. And the quickest means to achieving enclosure is with Thuja 'Green Giant.' Here is my own experience with this remarkable, fast-growing conifer:
In the spring of 2005, I purchased by mail 60 Thuja Green Giants from Wayside Gardens. You can't imagine my disappointment when the shipment arrived. Packed in narrow cardboard boxes were tiny, 12-inch-tall rooted cuttings in equally tiny 4-inch plastic pots. I planted the pathetic things along the sunny, and fully-exposed, 225-foot eastern border here. The shrubs were watered weekly that spring and summer, and fertilized just once with a balanced food. No supplemental food or water has been provided since.
The thujas produced little growth during their first two years. In their third spring, however, they added not one, not two, but three feet to their stature. And they have continued to produce such growth annually. Thus, a mere five years after planting, my "sticks" have achieved a height of 10 feet, with a 5-foot spread.
I can tell you that Green Giants perform their privacy roles here with stately elegance. Foliage is long, lacy, and medium green. The shrubs (or should I call them trees?) do exhibit a slight amount of browning during harsh winters. But they become fully green again when spring arrives. Mine laugh in the face of snow, ice, salt, and pests. Deer do not find them appetizing.
UPDATE! Pictured above is the Green Giant hedge, photographed on May 24, 2016. As you can see, the shrubs are enormous — probably 20 feet in height, and at least 10 feet wide.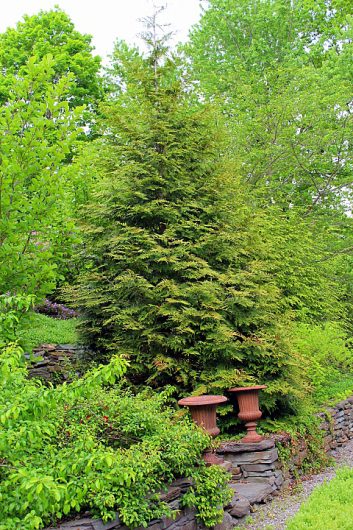 And here's a single Green Giant, also photographed on May 24, 2016, that I foolishly planted several years ago on the first terrace of my Serpentine Garden. Frankly, it's too large for the space. But the shrub can be judiciously pruned. It can also be pruned judiciously.
If you need a graceful green background for your garden, one that provides complete privacy from prying eyes and noisy traffic, requires no coddling, is drought tolerant, and gives shelter to wintering birds, do consider planting a hedge of Thuja 'Green Giant.' I can't think of a faster-growing shrub for zones 5-9.
Hungry for more? Get my email updates.