Happy week before Halloween! Next Saturday, Silver Fox and I will host our fifth annual Monster Bash. It's a frightening night that includes live entertainment, an open bar, and lots of yummy things to eat. Need a good scare? Walk this way:
Do have a seat in the music room. I have a guest who's dying to meet you.
As far as decorating goes, I don't try to make the house look haunted.
Why?
Because it already is.
I do, however, try to make an appropriate table-scape for the dining room. It's easy enough to drape the table with black vinyl, and place cheesecloth on top. This makes a nice background for pointy hats…
Or pairs of black candles and skulls. I usually add a few pumpkins, too. 'Tis the season.
The dining room table holds the cocktail appetizers. Would you like to try a few? Most can be made in advance:
Crudite. I like to put the dip in a hollowed-out head of 'Savoy' cabbage.
Bacon-Wrapped Grissini. These perform a disappearing act the moment guests arrive. The step-by-step recipe: 
Chive Pesto on slices of French baguette. My easy recipe: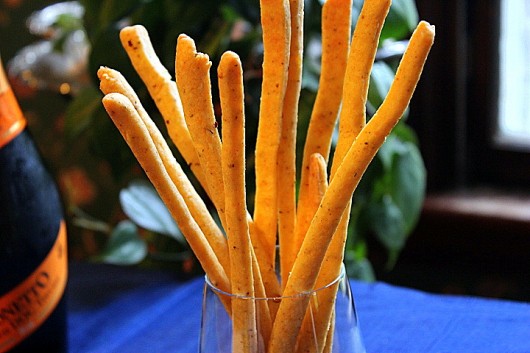 Herbed Cheese Straws. Stand them in black mugs for a ghoulish effect. Click here for the recipe.
Salmon Soldiers. You don't need a recipe for these one-bite appetizers. Just roll up some strips of smoked salmon, and pipe softened cream cheese into the hollow center. Garnish with capers and sprigs of dill. Easy!
Bean Dip with Fresh Rosemary and Sage. This is smokey-herby-delicious with crudite or crackers. The simple recipe.
Cheese Board. Here, a block of cheddar, a log of goat cheese, and a pile of crackers are sufficient. I like to adorn the board with fresh cranberries and local apples.
Oh. Click here to see all of my make-ahead appetizers. 
To keep the dining room from over-crowding, the open bar is set up at the north end of the music room. The "bar" is nothing more than a rectangular folding table, draped with black vinyl. I do hire a bartender to mix and pour drinks. When you have more than 40 guests, it helps to have extra hands around.
The south end of the music room is where the entertainment happens. Some years, we hire a pianist to accompany Liza, Elvis, and other guests who can really belt out show tunes.
Other years, everybody dances to the beat of my friend Jim Guidera.
This year, however, hosts and guests will provide entertainment. Maybe, just maybe…I'll play Schumann's Phantasy Danze on piano. Perhaps Silver Fox will read a poem. Our friend Sarah Kilbourne might sing a torch song or two, and…well, we shall see.
Now, you certainly don't need a big space to host a grown up Halloween party. Just invite some fun-loving friends, offer 'em food and drink, and trust me — a party will happen! Of course, your guests will need to arrive in costume.
A few costume ideas…
  I've been a vampire…
A colonial gentleman…
Cher (or rather, a pirate)…
And a musketeer.
Everyone looks better with eye-liner.
Don't argue with me.
We've hosted Liberace and Scott Thorson…
A witch (with beautiful blue eyelashes)…
And Hugh Hefner and his bunny.
One year, my BFF Michael Laudati arrived as this character from Monty Python's Holy Grail (see this youtube clip).
We've had a judge, a cat, and a black widow…
And The Joker, who, sans makeup, is really the Silver Fox.
Well, I hope I've inspired you to host your own masquerade party some year.  Playing "dress up" isn't just for kids!
Love ya-
KLJ
Don't miss anything at A Garden for the House…sign up for Kevin's email updates.
Need more costume ideas? Check out these parties:
Halloween 2013
Halloween 2014
Halloween Movies — Your Favorites and Mine