HOW ARE YOUR VEGGIES PROGRESSING? Any troubles to report? My own Kitchen Garden, above, has received record rainfall this spring (at least 17 inches since May 21). Still,  the cool season lettuce and peas are trotting happily along, while the warm-weather crops are…well, waiting for warm weather to arrive. My "farm-report," followed (I hope) by yours:
The Kitchen Garden, facing north. As you can see, I placed a pot of lavender-blue Calibrachoa at the center of the garden. Flowers in a veggie plot are necessary in order to attract the bees, butterflies and other insects which pollinate the crops.
To my eyes, the Calibrachoa makes an inviting focal point as one peers through the garden gate.
In case you're wondering, planted on each side of the gate is Rosa 'Gertrude Jekyll.'  A more more floriferous rose doesn't exist.
I can tell you that Miss Jekyll emits an intoxicating perfume.
And speaking of intoxicating…shall we sip a little something while prowling through the Kitchen Garden?
The cocktail du jour  is a sensibly-sized Cosmopolitan. I make it this way.
Thus fortified, we can look at the veggies (before it starts raining again):
The Brussels sprouts are quite small now, but believe me, they will achieve a height of 5 feet by August. They will also fall over then, unless staked. I stake mine right from the get-go.
Although I've cherished my Joan Crawford-Approved tomato trellis,  this year I'm keeping the plants corralled via the "Florida Weave." This support system, which should not be confused with the Michigan Weave, the Idaho Weave, or the world-renowned Upstate New York Weave, is based on a simple theory: that vines will grow upright when braced between lengths of string.
As you can see, I tied twine to 7-foot-tall poles that I attached to each end of the tomato-bed. As the plants grow, I'll add more string higher up the pole.
Do you remember the leeks I planted in deep holes? Mercifully, Nature re-filled the holes by providing abundant rainfall.
And to capture the moisture, I recently mulched the leeks with chopped straw.
Note: If you wish to mulch with chopped straw, make sure the straw is weed-free.  I use heat-treated straw that my local, independent garden center sells. It's an expensive product, but one bag goes a long, long way.
Another bed is devoted entirely to potatoes. Growing with gusto just now are 'Yukon Gold,' white 'Superior,' and red 'Norland.' These varieties do particularly well in my Hudson Valley, New York region. Not sure how to grow potatoes in a raised bed? Here's a refresher course.
Smothering the arbor at the rear of the Kitchen Garden are hardy Kiwi vines.
As I mentioned during last week's garden tour, the vines– after 6 years! — have finally produced flowers. And what gorgeous flowers they are.
In another 8 x 4 bed is a single zucchini plant and a pair of Butternut squash. The latter subjects will be trained up the wooden tripod at the rear of the bed.
Meanwhile, the strawberries are ripening…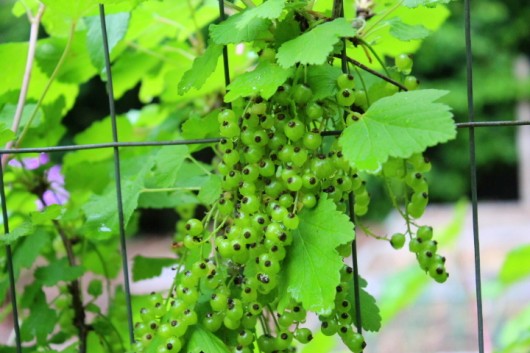 And the white currant shrub (Blanca') is groaning with fruit. Actually, "groaning" isn't the right word. But you know what I mean.
And here's some great news — the autumn-planted hard-neck garlic is sending up its curly scapes. As most of you know, I use these scapes to make the very best pesto in the world.
There are even more veggies growing "downstairs" in the Herb Garden. We can look at those beds at a future date. Meanwhile, what I really want to know is…how are your own veggies coming along?
Don't miss anything at A Garden for the House…sign up for Kevin's weekly email newsletter.
Related Posts:
Creating a Raised Bed Garden
From Wild Patch to Woodland Garden
From Hellish Hill to Woodland Garden